Institute of Mathematics and Computer Science
Currently, 12 professors, 29 other scientific members of staff and about 200 students work at our institute. There is a general atmosphere of cooperation between all groups. Professors and tutors are accessible at all times and students have the opportunity to actively take part in shaping their studies.
Our institute offers the subject Biomathematics (B.Sc. and M.Sc.) which is unique to Germany and the subject Mathematics (B.Sc., also with Computer Science, and M.Sc.). What is Biomathematics (article from the journal "Forschung und Lehre", Heft 6, 2015)? Biomathematicians are educated to be specialists in interdisciplinary cooperation and mathematicians to be experts for complex interrelationships. Both profiles are highly appreciated on the labour market.
Two new subjects were introduced for winter semester 2016/17: B.Sc. in Mathematics and a teaching qualification "Mathematics at Secondary Schools".
Furthermore, students of other faculties, who minor in Mathematics, Statistics and Computer Science, are educated at our institute. Top-performing students of our institute contribute to the teaching as tutors.
One key field of research is Biomathematics. Other fields of research are Quantum Stochastics, Differential Operators of Manifolds, Fractals and Time Series Analysis, Computability and Complexity Theory and Optimal Control. The complete names of the chairs and their areas of research are described on the pages of the professors and their employees.
News
Vorträge W1-Professur Stochastische Analysis
Im Rahmen der Besetzung einer W1-Professur für Stochastische Analysis finden am 18. und 19.4.2018 Vorstellungsvorträge statt.
Die Vortragenden und die Themen entnehmen Sie bitte den Aushängen.
Alle Interessenten sind herzlich eingeladen!
18.4.2018, ab 9:00 Uhr
19.4.2018, ab 8:30 Uhr
SR 3, Franz-Mehring-Str. 48
Guter Start im Ingenieurbereich: Projektentwicklung 2014-2018 und Erfahrungswerte
Maike Sube (RTWH Aachen)

Abstract
Im Kooperationsprojekt "Guter Studienstart im Ingenieurbereich" von FH und RWTH Aachen erhalten angehende Studierende eine umfangreiche Hochschul- und Fächerorientierung. Ziel ist auch eine Senkung der Abbrecherquote. Teilnehmende des Projekts erhalten im Sommersemester – vor Beginn des regulären Studiums, das nur zum Wintersemester aufgenommen werden kann – realistische Einblicke in verschiedene ingenieurwissenschaftliche Studiengänge und in die beiden Hochschulformen. Dazu werden reguläre Module aus den jeweiligen Fächern und auch genau auf das Projekt zugeschnittene Veranstaltungen angeboten. Für die meisten Module gibt es am Semesterende eine Prüfungsmöglichkeit, deren Leistungspunkte in späteren Studiengängen angerechnet werden können, ohne dass eventuelle Fehlversuche gezählt werden. Somit erhalten Studieninteressierte mehr Zeit und mehr Sicherheit für ihre Studienentscheidung.
Im Vortrag wird vor allem auf die Erfahrungen eingegangen, die wir seit 2014 gesammelt haben und das Projekt in seiner Entwicklung aufzeigen. Die Ideen und der Status Quo zur Verstetigung dieses Projekts werden ebenfalls ausführlich thematisiert.
Interessenten sind herzlich willkommen. Prof. Dr. Volkmar Liebscher
19.4.2018, 14:00 Uhr
SR 5, Franz-Mehring-Str. 47
Genus and Unknotting Number of a Knot
Prof. Dr. Stefan Friedl (Universität Regensburg)
Interessenten sind herzlich willkommen. Prof. Dr. Konrad Waldorf
30.4.2018, 16:00 Uhr
SR 1, Franz-Mehring-Str. 47
Themenbörse Bachelor-/Masterarbeiten
An diesem Termin werden Dozenten jeweils einen kurzen Überblick über die Themen für Abschlußarbeiten geben, die sie betreuen würden.
Es sind alle willkommen, auch die, die sich nur vorab schon einmal ein Bild über das Spektrum an Themen machen wollen.
2.5.2018, 14:00 Uhr
SR 1, Franz-Mehring-Str. 47
Colloquium
Das Kolloquium ist eine gemeinsame Veranstaltung aller Arbeitsgruppen des Instituts für Mathematik und Informatik. Es findet in der Regel dreimal pro Semester statt. Das Kolloquium richtet sich an alle Mitglieder unseres Instituts, an Studierende in unseren Master-Studiengängen, an fortgeschrittene Studierende unserer Bachelor-Studiengänge, sowie an mathematisch interessierte Mitglieder anderer Institute der Mathematisch-Naturwissenschaftlichen Fakultät.
Alle interessierten Zuhörer sind immer herzlich willkommen.
The Colloquium is a regular event staged by all groups of the Institute of Mathematics and Computer Science. It usually takes place six times a year. It is addressed to all members of the faculty, postdocs, PhD students, master's students, and advanced bachelor's students, as well as colleagues from other institutes of the Faculty of Mathematics and Natural Sciences, who are interested in mathematics.
Everyone is welcome to attend our Colloquium.
Information for our speakers
Please let us know in advance which technical equipment you plan to use. We have rooms with large chalkboard, with a beamer, or both (also for simulaneous use).
The audience of your talk includes faculty and students of diverse mathematical backgrounds (pure & applied math, and computer science).
We kindly request that your talk be about 50 minutes in length, aimed at a general audience, and accessible to graduate students.
In particular, your talk should not be directed towards an audience of experts as is common in area-specific seminars. It is not necessary to present details on your latest research results. However, discussing their global meaning and consequences can be very valuable, and giving some historical perspective of your topic and explaining why it is of interest to you and your community can be an excellent start. Please do not feel obliged to explain all ideas in a fully rigorous way.
Indeed, most of the audience will very much appreciate a slightly informal approach to new topics and concepts.
We thank you very much in advance, and we are looking forward to your talk!
Genus and Unknotting Number of a Knot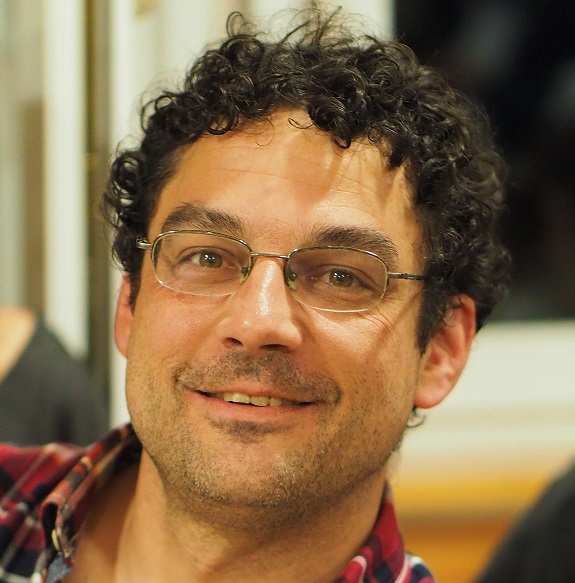 30.4.2018, 16:00 Uhr
Seminarraum 1
Franz-Mehring-Str. 47
Abstract
A knot is closed curve in R³. Every knot bounds an orientable surface, and the minimal genus of such a surface is called the genus of the knot. Every knot can be transformed into the trivial knot by a finite number of crossing changes. The minimal number of crossing changes is called the unknotting number. We will introduce these invariants of knots and discuss some properties and open questions.
About Prof. Dr. Stefan Friedl
Stefan Friedl studied Mathematics and Physics in Regensburg and later at Brandeis University in Massachusetts. He obtained a Ph.D in Mathematics from Brandeis University in 2003. He held postdoc positions in Munich, Houston, and Montreal. He became assistant professor at University of Warwick, then professor at University of Cologne, and since he is 2013 professor at University of Regensburg.
Stefan Friedl's research interests are Knot theory, low–dimensional topology, symplectic 4–manifolds, and related algebra.
The Institute of Mathematics and Computer Science can be divided into three main areas: